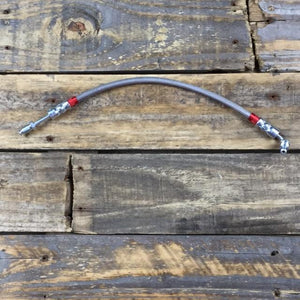 Replacing old worn out rubber hydraulic hoses is a must!  Braided stainless steel lines are the best way to improve pedal feel. This braided stainless steel line replaces the stock hydraulic hose connecting your clutch slave cylinder to the clutch master cylinder. All our parts are made in the USA and have a lifetime guarantee!
Technical features:
Fully compliant with DOT Standards (MVSS-1006)
Lines burst-tested to 6000psi
(maximum tested pressure from a BMW braking system is 1200psi)
Teflon® inner line covered with a woven layer of stainless steel and covered with an abrasion-resistant material.
Allow 5-7 days to Ship.